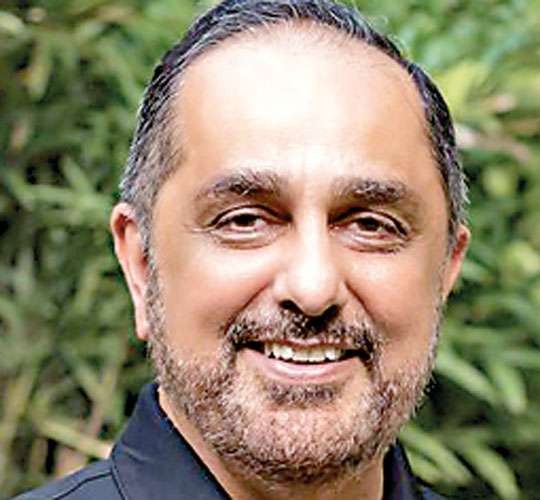 Expolanka rises to number one with a market capitalization of $ 2 billion.
Between the September 2020 close and last Friday, Expo's share price reflects a whopping 1,717% gain; As of end of June 2020 close of Rs. 3.20, last week's price Rs. 209 is a whopping 6.431%
On Friday, the market value of Expolanka Holdings climbed to Rs. 408.58b or $ 2.01b
Logistics giant exponentially increases 7 times from Rs. 57b market value at end of 2020
Nation Lanka Equities estimates that the Expo is expected to trade at Rs. 234-246 levels, an increase of 12% to 18% from the current market price
Capital Trust Securities measures the fair value of Expolanka at Rs. 307.25
Founder, shareholder and CEO of Expolanka Hanif Yusoof justifies existing and future valuations
---
By Nisthar Cassim
---
Expolanka Holdings Founder, shareholder and CEO of the Hanif Yusoof group
---
Relatively young, Expolanka Holdings PLC added another feather to its capitalization by becoming the first Sri Lankan company to be worth more than $ 2 billion in a short period of time, in addition to being the most profitable in the country.
The "$ 2 billion first company" label was hit on Friday when Expolanka's share price closed at Rs. 209 up 3.7% or Rs. 7.50 on Thursday. On Friday it had reached a market value of Rs. 408.58 billion or $ 2.01 billion. For the week it gained 13.25% and hit an intra-week high of Rs. 209.75. When Expolanka became the most valuable listed entity on August 23, its price was Rs. 122.50 and the market cap was Rs. 240 billion. It ended 2020 with a market cap of just Rs. 57 billion and was ranked 13th.
Between the September 2020 close and last Friday, Expo's share price reflects a whopping 1,717% gain. As of the end of Jun-2020 close, last week's price is 6.431%. Expolanka Holdings founder, shareholder and CEO Hanif Yusoof, contacted by the Daily FT to reach the $ 2 billion mark, said the beneficiaries of the company's growth were shareholders, customers, partners and employees, with the exception of Sri Lanka itself and the Colombo Stock Exchange.
"After listing Expolanka, the aspiration was to be in the Top 10, but the universe has so far given Expolanka more than we imagined," said low-key and modest Hanif.
Considering recent performance and future outlook, he justified the Expolanka share price both current and what is expected by several leading brokerage firms.
The exponential rise in Expo stock is not just a coincidence of the bullish market trend, luck or a bubble. After languishing well below its 2012 IPO price for many years, Expo's stock revaluation began after COVID with the pandemic which dramatically improved the earnings and future of logistics companies. Since September 2020, the Expo has grown steadily, steadily setting new heights and sustaining the meteoric rise. (see graph).
The Japanese SG Holdings Global Ltd. holds 75.6% of the capital of Expolanka Holdings while Hanif Yusoof holds 7.5%. Along with its growth, Expolanka has seen the public shareholder base increase from nearly 4,500 since FY20 to 13,719 in June 2021 while the public free float is 16.6%.
The opportunities induced by COVID saw Expolanka end FY21 with a significant net profit of Rs. 14.8 billion against a loss of Rs. 438 million in FY20. The group's turnover increased 111% to Rs. 218.7 billion. In the first quarter of fiscal 22, it recorded a 259% year-on-year growth in group profit after tax to Rs. 6.3 billion and a 165% year-on-year increase in group revenue to Rs. 95.7 billion.
To strengthen its activity, Expo has made several strategic acquisitions, a path it is likely to pursue. In the past six months, Expolanka has made three acquisitions investing $ 18 million. The most recent was the acquisition of 100% of the capital of the bonded container freight station and trucking services Completere Transport System LLC in the United States in early September for $ 6.1 million.
In August, it acquired Central American-based IDEA Logistics LLC and its group of companies for $ 9.7 million. In March, Expolanka bought 100% of US Seville Container Freight Station Inc. and related companies for $ 2.2 million.
In a research report released last week, Nation Lanka Equities (NLE) said the Expo's growth evolved in four stages. First of all, the restructuring in 2013/2017 which allowed the Company to reorient its resources and focus on its core business.
Second, the purchase of the majority of the shares by Japanese firm SG Holdings in 2014/2016, which helped Expolanka further realign its strategies.
NLE also said that Expo's focus on consolidation and its ambitious growth plan over the 2017/2019 period has helped it expand its global presence and develop its service capabilities.
The fourth phase was the Expo laying the groundwork for the 2017/19 period, helping the EXPO navigate successfully, especially during this time of pandemic.
He said the Expo's baseline scenario suggests a 100% year-over-year profit increase for fiscal year 2021/22.
NLE came up with a basic scenario when calculating Expo profits. "We have assumed a huge increase in volumes, especially ahead of the holiday season, supported by high rates for fiscal year 2021/22 and have adjusted profits up to Rs. 29.5 billion from the recent update.
Beyond FY 22, NLE assumed a moderate recovery in volumes through expansions, but adjusted freight rates that could set in with likely shocks to uncertainties related to cooling viruses.
In its bullish scenario, however, NLE assumed rates would remain high as volumes picked up quickly through major acquisitions.
"Our bearish scenario conversely assumes a recovery in volumes to medium to high levels for teens and a gradual decline in rates," NLE said.
In his view, Expo justifies trading at multiples of global peers after turning into a truly global company. "EXPO has grown into a leading player in global logistics over the past few years, becoming the 19th largest ship operating company in the world," said NLE.
Its restructuring process by aligning strategies with core verticals and expanding its global footprint has paid off during these difficult times, further aided by strong returns. Medium-term performance will be based on an aggressive EXPO acquisition campaign that would help consolidate EXPO's position by locking in and attracting existing customers while acquiring new customers through a range of peripheral services.
Given EXPO's strong global presence and ability to earn foreign exchange, NLE strongly believes that EXPO should now trade on a par with the global multiples of its peers. Even after conservatively taking a multiple of 15.5x-16.2x on FY 21 / 22E profits, which is still a 26% -30% discount from the global average peer multiple, EXPO is expected to trade at Rs. 234.00-246.00 levels, an increase of 12% to 18% from the current market price.
"However, if we take a more bullish approach and consider the bearish market scenario, the meter even has the ability to trade with a 40% premium over the current market price. So, given this scenario, we maintain our BUY recommendation, "added NLE.
Capital Trust Securities, in its latest research on Expolanka published this weekend, estimated the share's fair value at Rs. 307.25.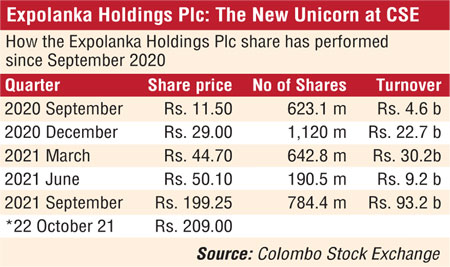 He said that Expolanka is currently trading at a PE of 10.97x FY22F and a PE of 9.77x FY23F respectively.
"We expect the Counter to see strong profit growth given high freight rates, volume growth ahead of peak season in the US, improved service offerings and expanding reach. through several acquisitions, "said Capital Trust adding:" With more than 93% of foreign currency turnover including 63% from the United States, the stock offers a natural hedge to investors against the depreciation of the LKR .
Capital Trust expects the meter to trade at a premium to the broad market PE as it provides investors with protection against the performance of the Sri Lankan economy, exposure to the US economy and to a global multinational with robust earnings growth.
"Considering the average peer PE of 20.25x futures earnings and the market PE of 12.02x on a 50%: 50% basis, we would expect the stock to trade at a PE of 16. , 13 x FY22F and a fair value of Rs. 307.25, "added Capital Trust.